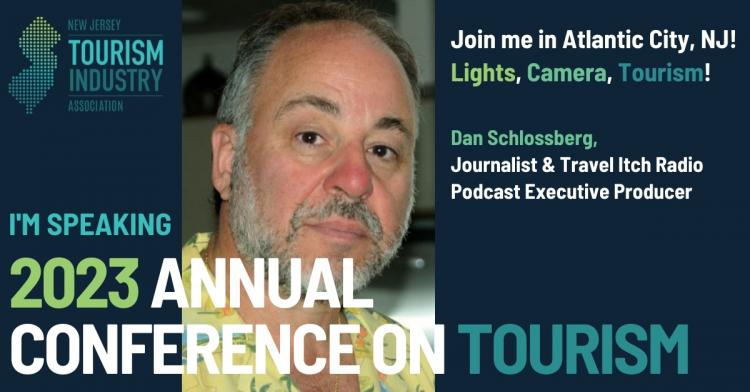 My Session Title:
Podcasting to Extend your Marketing Reach
When considering media, think podcasts! Learn from a seasoned radio broadcaster on what it takes to create an interesting and exciting podcast. Hear how Dan interjects humor and travel tips about his destinations to engage his audience.
About Dan Schlossberg

Dan Schlossberg of Fair Lawn, NJ is the only U.S. journalist who covers travel and baseball exclusively. The host and executive producer of the weekly TRAVEL ITCH RADIO podcast for the past 12 years, he is also does the TRAVEL THURSDAYS segment for simulcasting Hartford market stations WLIS WMRD, heard throughout New England, and is the co-founder and current president emeritus of the North American Travel Journalists Association [NATJA]. The former AP newsman is also a national baseball writer for forbes.com, columnist for Sports Collectors Digest, contributor to Latin Sports, and author of 40 baseball books, including this year's Baseball's Memorable Misses: an Unabashed Look at the Game's Craziest Zeroes. The 1969 Syracuse University alumnus has won awards for writing, broadcasting, and public service.

About the NJTIA Annual Conference on Tourism

November 30 & December 1
Resorts Casino Hotel - Atlantic City


Our Annual Conference on Tourism brings together professionals from all sectors of New Jersey's multibillion dollar tourism industry including associations, businesses, resorts, attractions, destination marketing organizations, transportation companies, as well as cultural, arts, and historic organizations to explore the latest trends and opportunities for the tourism industry.

Our conference will feature over 15 specialized speakers with vital industry topics such as NJ-focused tourism trends and forecasts, branding, education, heritage tourism, customer experience, film updates, podcasting, arts & cultural and more.