NJ Conference on Tourism
Resorts Casino Hotel - Atlantic City
November 30 & December 1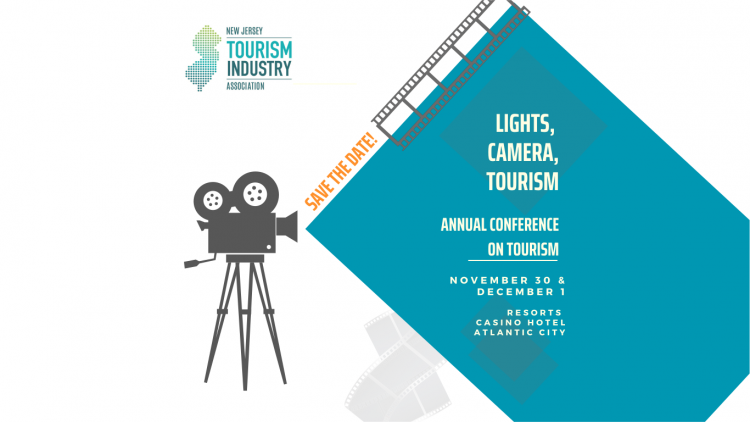 Thursday, November 30th & Friday, December 1st
Our Annual Conference on Tourism brings together professionals from all sectors of New Jersey's multibillion dollar tourism industry including associations, businesses, resorts, attractions, destination marketing organizations, transportation companies, as well as cultural, arts, and historic organizations to explore the latest trends and opportunities for the tourism industry.

Our conference will feature over 18 specialized speakers with vital industry topics such as NJ-focused tourism trends and forecasts, branding, education, heritage tourism, customer experience, film updates, podcasting, arts & cultural and more.

There will be ample time for new connections and business opportunities and an opening night Reception.
Thursday, November 30

7:30AM

Registration Open

8:00AM - 9:00AM


Breakfast, Opening Remarks by NJTIA President Lori Pepenella and a NJ Tourism Division update with Jeff Vasser

The conference kicks off with breakfast networking and a welcome that sets the tone for the rest of the day. Hear opening remarks from NJTIA President, Lori Pepenella followed by an uplifting update from Executive Director, Jeff Vasser of NJ Office of Travel and Tourism. There has been a great deal going on this year, you won't want to miss a minute of it.

9:00AM – 10:00AM

The Future Shape of Travel

10:00AM – 11:00AM

Spotlighting the Importance of a Brand


11:15AM-12:15PM – Breakout Session 1

March to the 250th: Creating Partnerships Through History


Heritage Tourism is a significant part of tourism revenue; panelists will highlight the economic impact of heritage tourism and hear how planning efforts for the 250th anniversary of the American Revolution in 2026 fit into the state's plans to market and promote tourism in New Jersey by leveraging partnerships and collaborations between Destination Marketing Organizations, historic places, and marketing agencies.

11:15AM-12:15PM – Breakout Session 2

Public/Private Partnerships: Partnering to Achieve Your Organizational Goals

Sarah Grady, M.A., Assistant Director The Lloyd D. Levenson Institute of Gaming, Hospitality & Tourism (LIGHT) Stockton University School of Business
Mariah Duffey, M.A., Assistant Director Continuing Studies and Adult Education, Stockton University

Learn how to identify synergistic partnerships and maximize their benefits for your tourism organization. Join Certified Tourism Industry Professional certificate program faculty, and President & CEO of ArtPride New Jersey Foundation, Adam Perle for a discussion of public/private partnerships and how they can be leveraged to achieve your organizational goals. The Lloyd D. Levenson Institute of Gaming, Hospitality and Tourism (LIGHT) Stockton University School of Business and Stockton University Office of Continuing Studies and Adult Education will also provide an overview and answer your questions about the Certified Tourism Industry Professional program.

12:15PM-2:30PM

Celebration of Tourism Luncheon & NJTIA Excellence Awards

2:45PM – 3:45PM

The ROI of Customer Experience: How Customer Experience Can Save Tourism


In this session, Liliana Petrova, CEO and Founder of The Petrova Experience, dives deep into what an elevated experience is in the current tourism landscape, and how to create and sustain those experiences. She will examine expectations along the customer journey, provide real-world comparisons of how major destinations embrace (or squander) opportunities for Wow Moments, and outline how to get the ROI of customer loyalty from today's traveler.

4:00PM – 5:00PM

TAKE 2: Movies Return To The State Where Moviemaking Began

5:30PM – 7:30PM

Networking Reception – Details TBD

Friday, December 1

8:00AM-9:00AM

Breakfast, Legislative & World Cup Update

Final day breakfast kicks off with Matthew S. Halpin, NJTIA Executive Director providing a legislative update and special comments from the World Cup Host Committee. And of course, more networking.

9:00AM – 10:00am

Tourism Travel Session with Subject Experts from DANA Communications and The Lou Hammond Group.

10:00AM – 11:00AM

Arts as a Tourism Driver

11:15AM-11:45AM

Podcasting to Extend your Marketing Reach

12:00PM-1:00PM

Beyond the Credits Panel

Speakers TBD

1:00PM

Lunch to Go
Full Conference Registration includes Luncheon & Reception
Member - $350
Non-Member - $380
Thursday Only Conference (Includes Luncheon and Kick Off Reception)

Member - $250
Non-Member - $275
Friday Only Conference (does not include Luncheon or Kick Off reception) - Member/Non-Member
Annual Tourism Luncheon Ticket Only
For Non-Conference Attendees, Thursday Night Kick Off Reception Ticket Only

Schedule
Interested in becoming sponsor, we have a wide range of opportunities:
Show Sponsor
$25,000
Six Full Conference Registrations
Two Full Page Ads in the Program
Tabletop Booth
Logo on all conference materials.
Three minute presentation before session speaker
Preferred, reserved seating at Luncheon
Free valet parking for two attendees
Web link from NJTIA Website for one year List of conference attendees
Eligible to provide gift or literature for attendees to include in Conference tote bag
Annual Tourism Luncheon & Awards Sponsor
$10,000 (Only 1 Available)
Two Full Conference Registrations
Two-minute address during luncheon
List of conference attendees
Eligible to provide promotional gift for attendees – will be placed at each place setting
Eligible to include literature in Conference Tote Bag
Corporate logo will be on place setting menu
Logo in onsite Program and on Website Program
Full Page Ad in the Program
Tabletop Booth
Kick Off Reception Sponsorship
$10,000 (Only 1 Available)
Two Full Conference Registrations
Four additional Kick-Off Reception Tickets
Two-minute address during reception
List of conference attendees
Eligible to provide promotional gift for attendees – will be handed out at reception.
Eligible to include literature in Conference Tote Bag
Logo on Reception signage
Logo in onsite Program and on Website Program
Full Page Ad in the Program
NJTIA to include a Conference Program ad that spotlights company as the Reception sponsor
Tabletop Booth
Premium Sponsor
$10,000
Four Full Conference Registrations
Four additional Kick-Off Reception Tickets
Logo in onsite Program and on Website Program
Full Page Ad in the Program
Tabletop Booth
Two minute presentation before a session
Reserved seating at Luncheon
List of conference attendees
Eligible to provide gift for attendees to include in Conference tote bag
Banner prominently displayed during conference

Platinum Sponsor
$7,500
Four Full Conference Registrations
Two additional Kick-Off Reception Tickets
Tabletop Booth
Eligible to provide gift or literature for attendees to include in Conference tote bag
Acknowledgement in conference materials
Full page Ad in the Program
Banner displayed during conference
Gold Sponsor
$3,500
Three Full Conference Registrations
Two additional Kick-Off Reception Tickets
Tabletop Booth
Eligible to provide gift or literature for attendees to include in Conference tote bag
Acknowledgement in conference materials
¼ page Ad in the Program
Silver Sponsor
$2,500
Two Full Conference Registrations
Two additional Kick-Off Reception Tickets
Eligible to provide gift or literature for attendees to include in Conference tote bag
1/8 page Ad in the Program
Acknowledgement in conference materials
Bronze Sponsor
$1,750
One Full Conference Registration
Tabletop Booth
Eligible to provide gift or literature for attendees to include in Conference tote bag
1/8 page Ad in the Program
Acknowledgement in conference materials
Patron Sponsor
$1,250
One Full Conference Registrations
Acknowledgement in conference materials
Business Card Ad in the Program
Eligible to provide gift or literature for attendees to include in Conference tote bag
Friend Sponsor
$600
Acknowledgement in conference materials

Conference Tote Bag Sponsorship
$5,000(Only 1 Available)
One Full Conference Registration
Your Corporate logo on Conference branded tote bag handed out to all attendees of the conference.

Can include literature or promo item

Tabletop Booth
Acknowledgement in conference materials
½ page Ad in the Program
SOLD - Lanyard Sponsorship
$1,750
One Full Conference Registration Company
Name on Badge Lanyard
Acknowledgement in conference materials

Event Program Advertising Options:
Deadline: October 13th – High resolution PDF should be sent to cgoldstein@njpsi.com
Full Page – 4 Color
8.5" x 11 Trim Size/8.25" x 10.75" Live
$500
½ page – Vertical 4 Color
½ page – Horizontal 4 Color

1/4 page – 4 Color
1/8 page – 4 Color
Custom Sponsorships are available, please contact Christina Goldstein at cgoldstein@njpsi.com

---
Thank You to Our Sponsors

Gold Sponsor
Silver Sponsor
Bronze Sponsor
Patron Sponsor
Lanyard Sponsor