Economic Impact
he New Jersey Division of Travel & Tourism has released the "2022 Economic Impact of Tourism in New Jersey" study at the New Jersey Tourism Industry Association's (NJTIA) annual Advocacy Day event today, heralding the industry's near complete recovery with forecasts to break 2019 records in the current year. After a strong rebound in visitor volume and spending in 2022, New Jersey officials say the state's tourism industry has nearly recovered from the effects of the COVID crisis and expect to surpass pre-pandemic levels this year.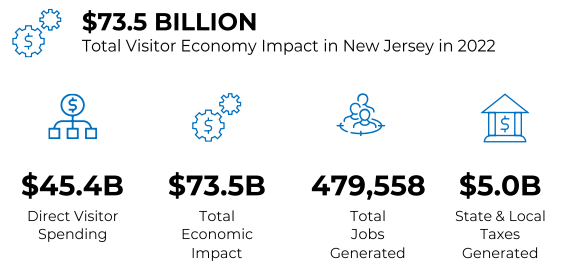 Key findings from the "2022 Economic Impact of Tourism in New Jersey" study

New Jersey welcomed 114.6 million total visitors in 2022, up 18 million from 2021, with visitation increasing over 18% and rebounding to 99% of 2019 volumes.

Visitors spent $45.4 billion in New Jersey in 2022, up $8.2 million from 2021, or 98% of 2019 levels, with overall spend by day visitors breaking previous records at $5,697 million, a 27% increase over 2019 figures.

Visitor industry GDP was $21.8 billion in 2022, accounting for 2.9% of total New Jersey GDP, an increase of 0.3 percentage points over the 2021 share.
Spending by visitors across all categories showed double-digit growth with recreation growing the fastest in 2022 by 30% over the previous year and food & beverage and lodging each contributing $12.3 billion in visitor spend.
Visitor spending generated $5.0 billion in state and local taxes in 2022, equivalent to $1,470 in tax savings for every household in New Jersey.
Tourism supported over 479,588 New Jersey jobs (1-in-12) representing 8.3% of all jobs in the state.