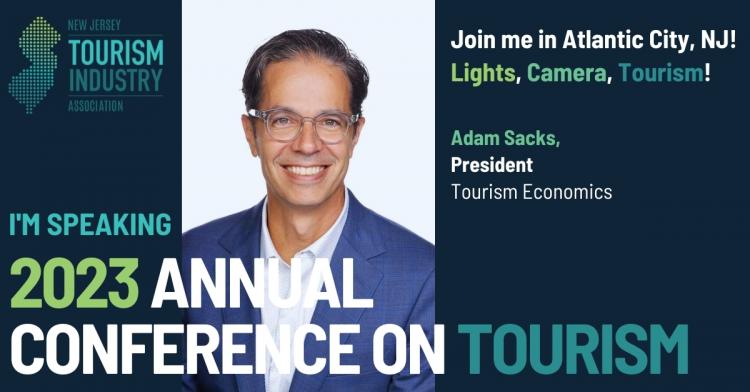 My Session Title:
The Future Shape of Travel
Both leisure and business travel have rebounded with impressive strength over the past two years. However, recession tremors and persistent inflation loom large and threaten the continued recovery of travel. Adam Sacks will share Tourism Economics' latest views on the economy, the mindset of travelers, and expectations for the evolution of travel.
About Lindsey Norment

Adam Sacks is the President of Tourism Economics; an Oxford Economics company dedicated to unlocking the power of economics for the travel sector.
For more than 25 years, Adam has worked with destinations, industry associations, and companies around the world in the areas of policy analysis, market assessments, and economic impact.
Adam's work has provided the foundation for billions of dollars in capital investment decisions by hotel companies, developers, and investors.
Adam also manages the ongoing production of travel forecasts that have consistently guided the travel industry through uncertain times.
He is an authority on measuring the economic impact of visitor activity and his work regularly informs national and local government policy.
Adam is a frequent presenter at conferences (where he will occasionally play guitar) and is a member of the U.S. Department of Commerce, Travel & Tourism Advisory Board.
About the NJTIA Annual Conference on Tourism

November 30 & December 1
Resorts Casino Hotel - Atlantic City


Our Annual Conference on Tourism brings together professionals from all sectors of New Jersey's multibillion dollar tourism industry including associations, businesses, resorts, attractions, destination marketing organizations, transportation companies, as well as cultural, arts, and historic organizations to explore the latest trends and opportunities for the tourism industry.

Our conference will feature over 15 specialized speakers with vital industry topics such as NJ-focused tourism trends and forecasts, branding, education, heritage tourism, customer experience, film updates, podcasting, arts & cultural and more.